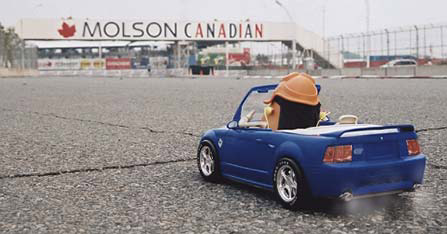 Put up or Shut Up!
As the starter waved the green flag, Spud mashed down on the gas pedal and roared off toward turn 1 taking the point from pole sitter Cristiano de Matta.
Once he was in clean air, the tuber extended his lead as he effortlessly dodged around each corner down the winding track.
Leaving the other 20 drivers choking on his dust, car owner Bobby Rahal tossed a box of butter pats onto the racecourse in front of the tater's street machine. The tiny tato easily manoeuvered through the slippery obstacle, but his competition was less fortunate, with Rahal's driver Michel Jourdain spinning out of control and crashing into the guard rail.
Try as they might, the Indy CART elite proved to be no match for Spud and his turbo powerplant as he cruised to the checkered flag 6 laps ahead of his nearest competitor.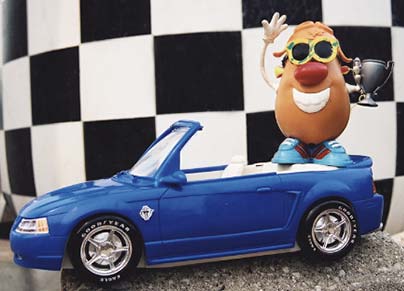 Spud's pummeling of the series' regulars caused a tremendous uproar and the CART teams petitioned the sanctioning body to have the tater's win discredited. Feeling pressured to do something, officials subjected Spud's car to a rigorous post-race inspection; looking for rule infractions.
After a 4 hour strip down search of the chassis, the only thing they found was a ziploc bag of diced green onions in the trunk which helped the car's downforce. Unfortunately for the CART boys, the rule book doesn't exclude onions...