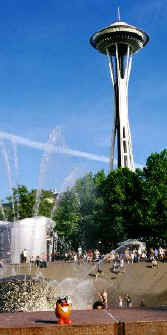 Seattle
Besides the countless coffee houses and grunge bands, Seattle, Washington is a town with many things to see and do. With so little time on his hands, Spud was only able to take in a few of the highlights.
One can't visit Seattle and not venture to Seattle Center to see the city's most famous landmark: the Space Needle. Ever since his experience at NASA, Spud was eager to find what links the tower had to THE GREAT BEYOND. It turned out that the only connection that the tower had was that it left a great deal of empty SPACE in your wallet after paying the admission fee.
The next stop was downtown at the world famous Pike Place Market. The market has attracted millions over it's long history of selling everything from belt buckles to fresh fruit and vegetables. But Pike Place is most noted for it's fresh seafood harvested from the beautiful waters of Puget Sound. Not one to come face to face with many fish on his travels, Spud took advantage of the opportunity to meet some of the local catch.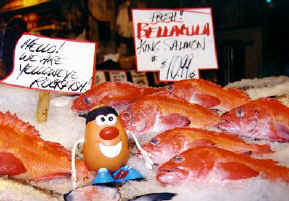 The tuber tried to have a conversation with a small school of Yelloweye Rockfish at the market stall of Pike Place Fish, but they were pretty cold with him. Spud then tried to say 'Hi' to some of the King Salmon and the Halibut, but none even acknowledged him; they just looked back with a blank gaze.
Finding it a bit odd that none of the fish were talking, Spud investigated further. To his shock and disbelief, he discovered that all of the fish were dead! Oh the horror!
Suddenly a stall worker leaped out from behind the counter and grabbed the potato. They weren't going to let some vegetable make trouble!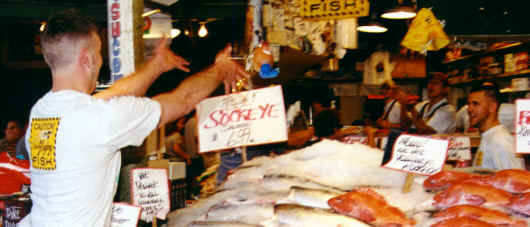 The man ripped Spud's mouth off before he could shriek and then tossed him across the stall to one of his henchmen.
He was quickly wrapped in a newspaper and then thrown into a leakproof ice pack. The group had intended to ship the unknowing tuber to Mongolia. Fortunately, Spud had a swiss army knife in his back compartment and managed to cut his way to safety before the arrival of the courier. It was time to get out of town!